The Dudley mortgage range is available via our fees free specialist mortgage packager team or via our direct to lender mortgage club.  Their latest product information is available here and their criteria details are available here (but is password protected so contact us or Dudley for further details). 
Changes to our BTL and Self-Build range
For your clients looking to purchase a second property, additional stamp duty implications unfortunately may apply. Therefore, we are delighted to announce the launch of our Two Year Fixed Rate BTL, which aims to support prospective landlords with those implications and potential early repayment charges, with a reduced rate. 

Our two-year product provides a solution to borrowers who buy a new principal residence while renting out their existing property and have attracted a SDLT surcharge. By having an ERC applicable for only two years, your clients still have the option of selling before the end of year three to claim back the surcharge. Available for purchase and remortgage and up to a maximum LTV of 70%, the 3.69% fixed rate product, has a £750 arrangement fee, providing clients the opportunity to borrow up to £1 million.

We have also made enhancements to our self-build product range, supporting borrowers to achieve their dreams of building their own custom home. Our 0.75% Self-Build Discount for Term – Advance and 1.00% Self-Build Discount for Term – Arrears now have an increased maximum loan amount of £1 million, previously £500,000. With no upper age limit and both non-standard and modern methods of construction acceptable, visit our website for full details and information. 

Don't forget, we also have our Eco Self-Build product range available for borrowers to increase the energy efficiency of their homes.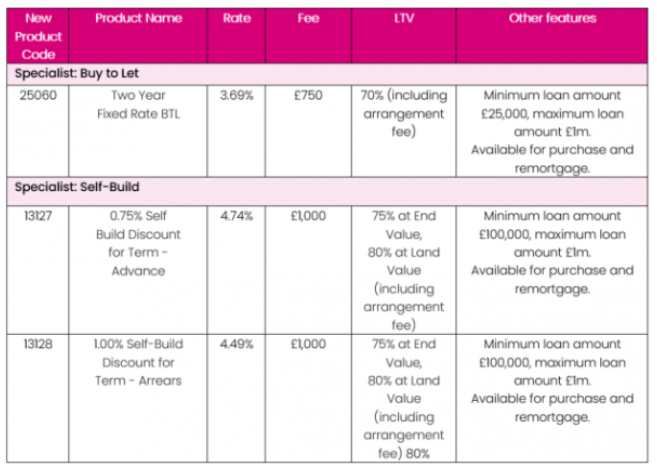 We have withdrawn our 1.70% Discount for Term BTL, as well as the current 0.75% Self-Build Discount for Term – Advance and 1.00% Self-Build Discount for Term – Arrears self build-products, with the lower maximum loan amount of £500,000. Please note that we will accept full applications on these products for two weeks until Thursday 8th July.