Please see below details of the mortgage changes due to take effect on Wednesday (27 Jan):
First Time Buyer – removing the arrangement fee and extending the end date
Owner Occupied – adding a 90% LTV band
BTL – reducing the rate, reducing the fee and extending the end date
Limited Company BTL – relaunching to the market
First Time Buyer (changes from current products highlighted in red)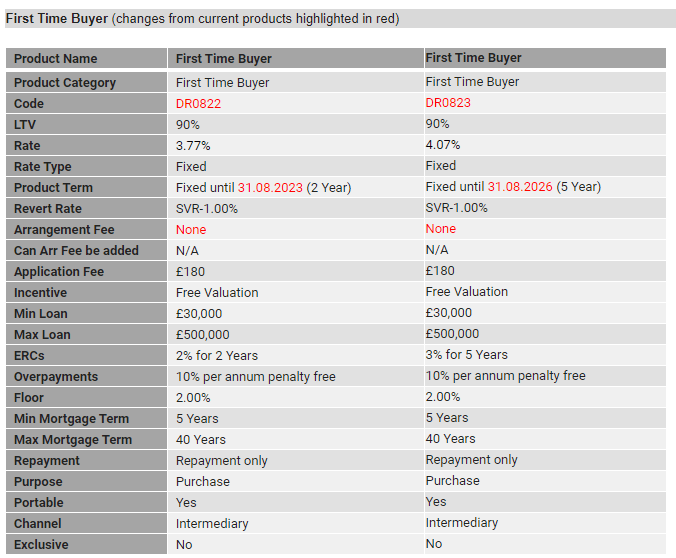 These replace DR0802 and DR0803, which are being withdrawn.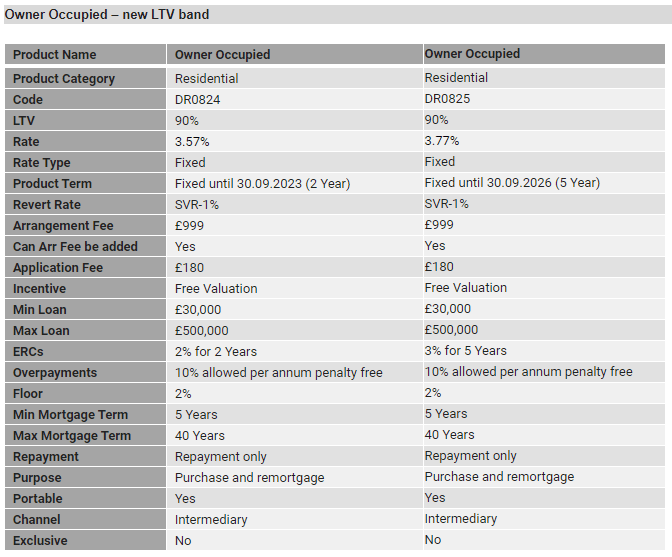 Available to existing home owners only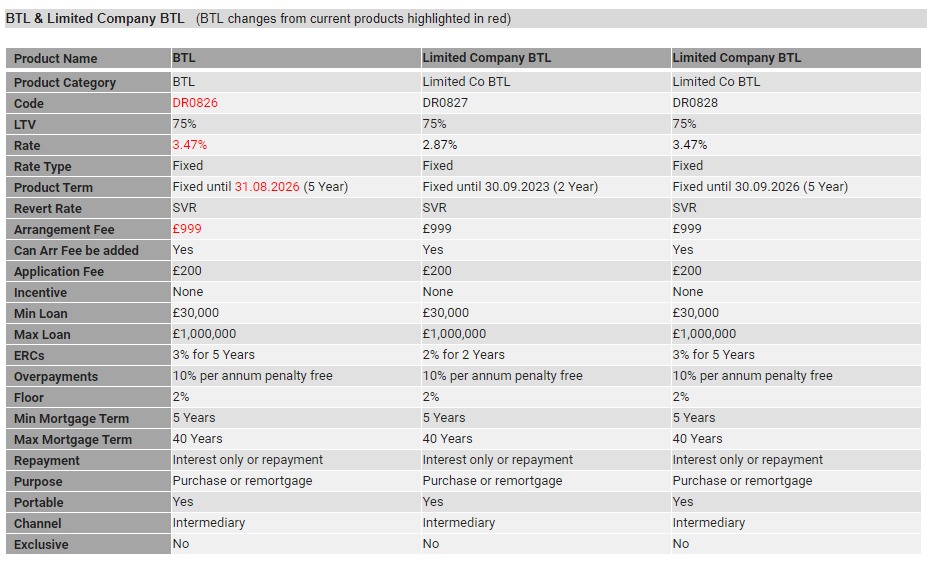 DR0800 is being withdrawn.
BTL criteria is as per current product.
 Limited Company BTL criteria:
o   2 Year Fix: Rental cover 125% of either pay rate + 2% or 5.5%, whichever is higher
o   5 Year Fix: Rental cover 125% of pay rate
o   Debt for debt re-mortgage cases: Rental Cover on 125% of pay rate. Fees may be added to the loan
Property must be let on an AST
Rental assessment is based on occupation by 1 family on an unfurnished let
No adverse accepted
Regulated or Consumer buy to let not accepted
HMO not accepted
For portfolio landlords the maximum LTV INCLUDING fees is 75%
Minimum energy performance rating of E on an Energy Performance Certificate (EPC)
Limited Companies registered in the UK only
No time limit as to how long registered i.e. new SPV's allowed
Company must be set up with the principal activity of buying and holding residential investment property and used for that purpose only – no other trading purposes permitted.
Certificate of Incorporation to be provided
Latest set of accounts to be provided (where the company has been set up for more than 18 months)
All Shareholders in the Company must be named as Directors
Personal Guarantees for total borrowing (plus accrued interest & costs) taken from all Directors
Any proposed changes to Directors during life of mortgage must be subject to our approval
Maximum of 4 Directors – individual credit checks will be undertaken
Details of all properties each Director has an ownership in (either in own name or a business name) must be provided.
READ OUR GUIDANCE NOTES AVAILABLE WITHIN OUR OTHER DOCUMENTS SECTION ON OUR WEBSITE.