Furness Building Society have release a product update for intermediaries.  See below for details.  Access these product via our direct to lender mortgage club and get the benefits of payment on completion. 
We've lowered our Buy to Let rates !

We've reduced the rates on some of our 2 year Buy to Let mortgages. These new products are available for Unregulated, Regulated and Consumer Buy to Let applications, so we may be able to help your client whatever type of landlord they are.

A summary of our new products can be seen in the table below.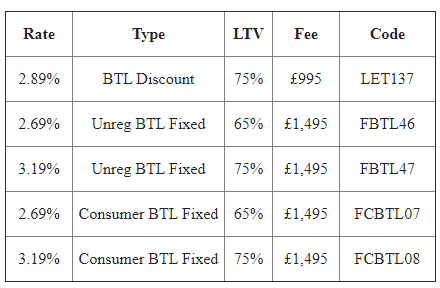 View our full Buy to Let product range
Here's a reminder of how we can help you with your next case.

Buy to Lets

Whether your client is an experienced portfolio landlord or it's their first time, we can help
Buy to Let applications are fully assessed with a focus on affordability, based on the applicant's full financial circumstances, taking into account letting costs, taxation of rental profits and their own personal income and expenditure including any other mortgages held
We don't apply an Interest Coverage Calculation (ICR) when assessing a new Buy to Let application, although the gross anticipated rent should be at least 125% of the interest charges at the initial pay rate
Holiday Let

We're an established provider of holiday let mortgages with a selection of products to choose from.
A flexible, sensible approach to calculating affordability by using 50% of gross holiday rental income as well as personal income.
Your clients can use the property for personal use for up to 90 days per year! So they can enjoy the benefit of owning the property as well as the investment return 
Mortgages considered on interest only or repayment basis
Available on properties across England, Wales and Scotland including the Isle of Skye
Maximum loan to value of 75%
All applications are looked at by one of our experienced team of underwriters alongside easy access to telephone BDM support through our dedicated team for help with queries or application support.