Covering Residential Mortgages, BTL, Secured Loans and Bridging Finance; all of the Precise Mortgage products are available via our specialist packaged team and our direct to lender mortgage club.
Lower upfront costs with our new Winter Warmers range
£0 product fees and lower rates with our Winter Warmers limited edition buy to let products
 
Our Winter Warmers limited edition buy to let products feature reduced rates, £0 product fees and refunded valuation and £500 cashback, which could be ideal for remortgages.
 
The range includes options for personal ownership, limited company, HMO and limited company HMO landlords.
Help your customers finish the year the right way, with a wider range, straightforward criteria and quick decisions. When it comes to buy to let, we're on the case.
Top slicing – available across our entire buy to let product range
Portfolio landlords – up to 20 properties to a total value of £10m with us, unlimited with other lenders
 5 year fixed – affordability assessed at pay rate
Limited company landlords – No limit on director dependant shareholders under age of 21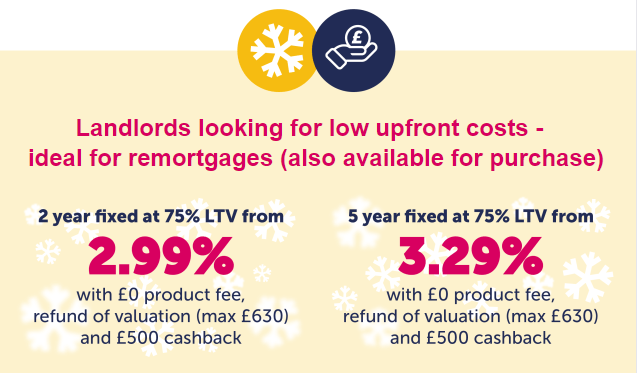 There's still time to place your cases
Residential rates reduced by up to 0.40%. Here. We. Go.
Our NEW Winter Warmers limited edition residential range offers lower rates for customers with recent adverse credit. What's more, all products feature a refund of valuation fee.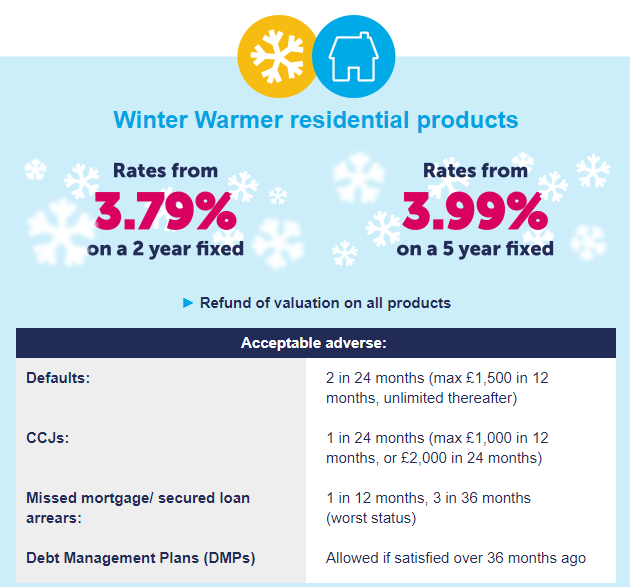 Backed up by award winning specialist lending solutions:
Less-than-perfect credit accepted – providing options for customers with recent defaults, CCJs, secured and unsecured arrears and DMPs satisfied more than 36 month ago.
Self employed customers – We'll consider applications with only 1 year's accounts or tax calculation.
Refund of valuation on all products – which could be ideal for remortgage applications.